Review: 2Phone Dual SIM Case for iPhone 4
WRITTEN BY: JAMES RINTAMAKI ON MAY 22, 2011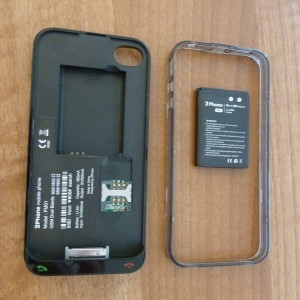 The 2Phone case for the iPhone 4 is a 3-in-1 case. It is A) a case, B) a dual-SIM adapter, which allows you to use two SIM cards for voice at the same time, and C) an extended battery(ish..). The team at RebelSim sent me one to review so read on to find out more about it:
Video Review:
Video review of the 2Phone 3-in-1 iPhone 4 case
As a case:
The 2Phone as a case offers full scratch protection for everything except the front screen; for front screen protection, you'll want to pair this with a screen protector.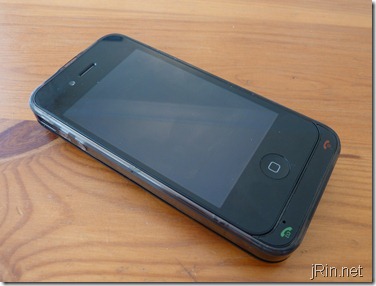 The inside of the case (the part that the rear glass touches) is a slightly textured plastic that protects the entire backside of the iPhone: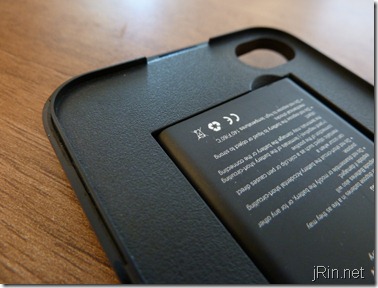 The bumper that covers the sides is a relatively thin, translucent plastic that covers everything else except the front glass. It comes in a few different colors, but it only comes with this "smoke" colored one (and I can't seem to find a way to get/order other colors), but I personally like the color well enough:

The bumper completely covers the volume and power buttons and unfortunately it makes it a bit annoying to change the volume. I find that I have to either press hard, or use my thumbnail, to actually get the volume buttons to press in (as opposed to being able to just lightly use the "pad" of my thumb). Also, it prevents you from easily using your thumb to flip the vibrate switch – I now have to use either my thumb/index fingernail: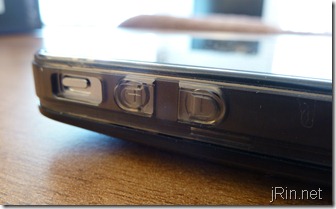 All of the port "cut outs" line up perfectly, such as the headset jack and camera: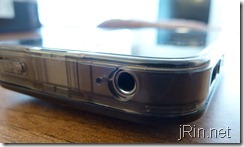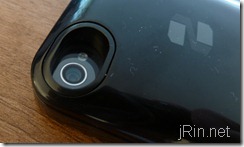 What's also nice is that it gets rid of the proprietary Apple port and replaces it with a micro usb port (which is used for charging AND syncing with your computer/iTunes):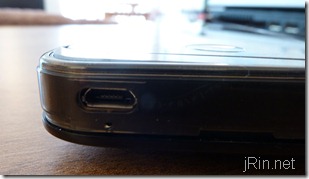 The case is very light and when compared with the weight of the iPhone 4, I really can't tell a weight difference when using it. However, the case does add a bit of thickness to the phone – it almost (not quite) doubles it's thickness, but at least it's curved on the edges, so it's not like you would be carrying around a brick:

As an extended battery / second SIM card:
The part that sets this case apart from all other cases I've seen is the fact that it lets you use a 2nd SIM card at the same time as the iPhone's SIM card; You don't have to switch between two SIM cards like other dual-SIM solutions.
The case is essentially a second phone that you are attaching to the iPhone, except instead of having it's own screen, you use a jailbroken iPhone app to use it. The 2Phone case is powered by it's own 800mAh battery and not the iPhone 4: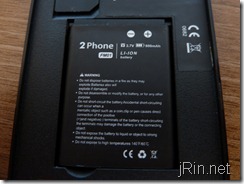 This battery can also act as an extended battery to charge the iPhone 4 as well, however, it must have a remaining capacity of at least 50%. If it has less than 50%, it will not charge the iPhone as the case will reserve the remaining 50% to use for powering the case. With a full charge of the 2Phone battery, I have been able to charge the iPhone about 20% before the 2Phone battery reaches 50% and stops charging the iPhone. It's not much, but think of it more as a bonus feature than anything else – in other words, don't buy it to rely on as a backup power source.
The 2Phone is quad band 850/900/1800/1900 and unlocked, so it should work with any SIM you end up pairing it with. It takes regular size SIM cards so you'll need to use a microsim-to-regular SIM adapter if you end up using it with a microsim: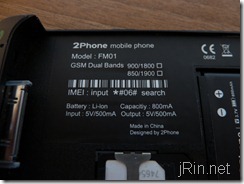 As mentioned earlier, in order to utilize the 2Phone's SIM card, you need to install their 2Phone app which requires your iPhone to be jailbroken.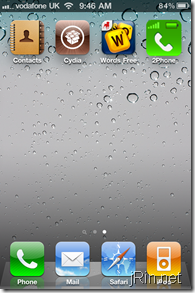 The app itself is very similar to the built in Phone app on the iPhone. The iPhone Phone app has options for Favorites, Recents, Contacts, Keypad and Voicemail whereas the 2Phone has Settings, Recents, Message, Contacts, and Keypad: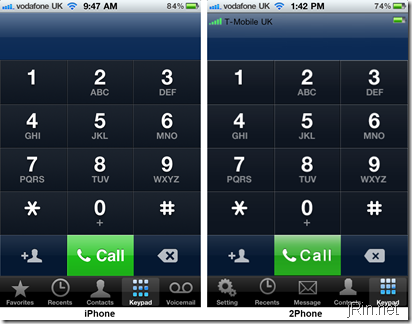 (on a side note…I find it interesting that on my UK iPhone, they spelled it "Favorites" and not "Favourites")
There are a few different setting options you can change such as the ring volume and tone, text message tone, the phone number to use for voicemail, as well as setting/inputting the SIM pin. As far as Ringtones, you are able to use the single 2Phone created ringtone, or any of the built in iPhone ringtones:
To place a call with either SIM card, you simply use the appropriate app (the default phone app for the iPhone SIM or the 2Phone app for the 2Phone SIM). When you receive a call from the 2Phone SIM, you'll get what looks like a notification popup which will then open up the 2Phone app to accept that call: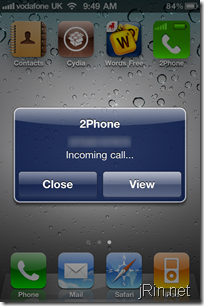 Wrap up:
If what you are looking for is the ability to have two SIM cards active at the same time, then this is the case for you (plus, it gives you great scratch protection and a small extended battery). However, don't buy it thinking you will be getting a big boost in call time (remember, it'll only charge the iPhone if the 2Phone has 50% or greater battery left). That being said, it works great for adding an extra line to your iPhone. If you are currently having to carry around two phones to have two separate numbers (such as a work and personal phone), it would probably be worth it to ditch one of them!
Pros:
Lets you use 2 SIM cards at the same time

Light weight, scratch protection case

Looks sleek

Adds a micro usb port (instead of an Apple port)
Cons:
The battery doesn't provide much extended battery for the iPhone

The bumper covers the vibrate switch causing it to require extra effort to switch it